HOW CAN I BOOK MY SPACE IN THE EASY QIGONG RELAXATION WORKSHOP IN GLASGOW?
To reserve your space in the Easy Qigong Relaxation Workshop in Glasgow please click on the button above and to the right to make your payment via paypal, credit, or debit card. Once payment is made your place will be secured in the Workshop. Hazel is looking forward to meeting and teaching you.
For those who prefer an alternative payment method, this can be arranged too.
Online Tai Chi and Qigong courses are also running - please click here for details. Hazel runs classes for all levels of ability and experience. If you are unsure which course to enrol on, please feel free to get in touch by either telephone or email.
If you'd prefer a Beginners Tai Chi and Qigong Relaxation Class in either Stockbridge or Bruntsfield/Morningside, Edinburgh please click here for details of classes presently taking place.
WHAT TYPE OF QIGONG WILL WE DO IN THE WORKSHOP?
In this Workshop we will focus mainly on a set of Qigong exercises (called the Tai Chi Qigong) and also Five Elements Qigong which are simple and easy to learn, yet very effective for bringing about a feeling of relaxation and peace of mind, while gently exercising the body. They are ideal for people of all ages and most levels of fitness.
After the Workshop you may remember some of the Qigong exercises and be able to practise them effectively in your own time, however there is no rush to learn Qigong and you will likely leave feeling calm, energised and relaxed. This Workshop will guide you through some simple relaxation techniques.
Cost: £45. 8 SPACES ONLY. Early booking recommended to avoid disappointment.
EASY QIGONG RELAXATION WORKSHOP IN BOTANIC GARDENS, WEST END, GLASGOW
The Easy Qigong Relaxation Workshop will take place on:
SUNDAY 20TH AUGUST, 10.30AM - 1.30PM
at
KIBBLE PALACE SOUTH WING ROOM,
BOTANIC GARDENS, WEST END, GLASGOW
If the weather is suitable, there will be the option to go outdoors. This will be a unique opportunity to learn Qigong in a small group in beautiful, natural surroundings.
Absolute Beginners to Qigong are welcome and no experience is necessary. There will be a break in the middle of the Workshop for tea and a chat. This Workshop will also be ideal if you've been attending Hazel's online Easy morning Qigong classes or if you've attended classes in the past.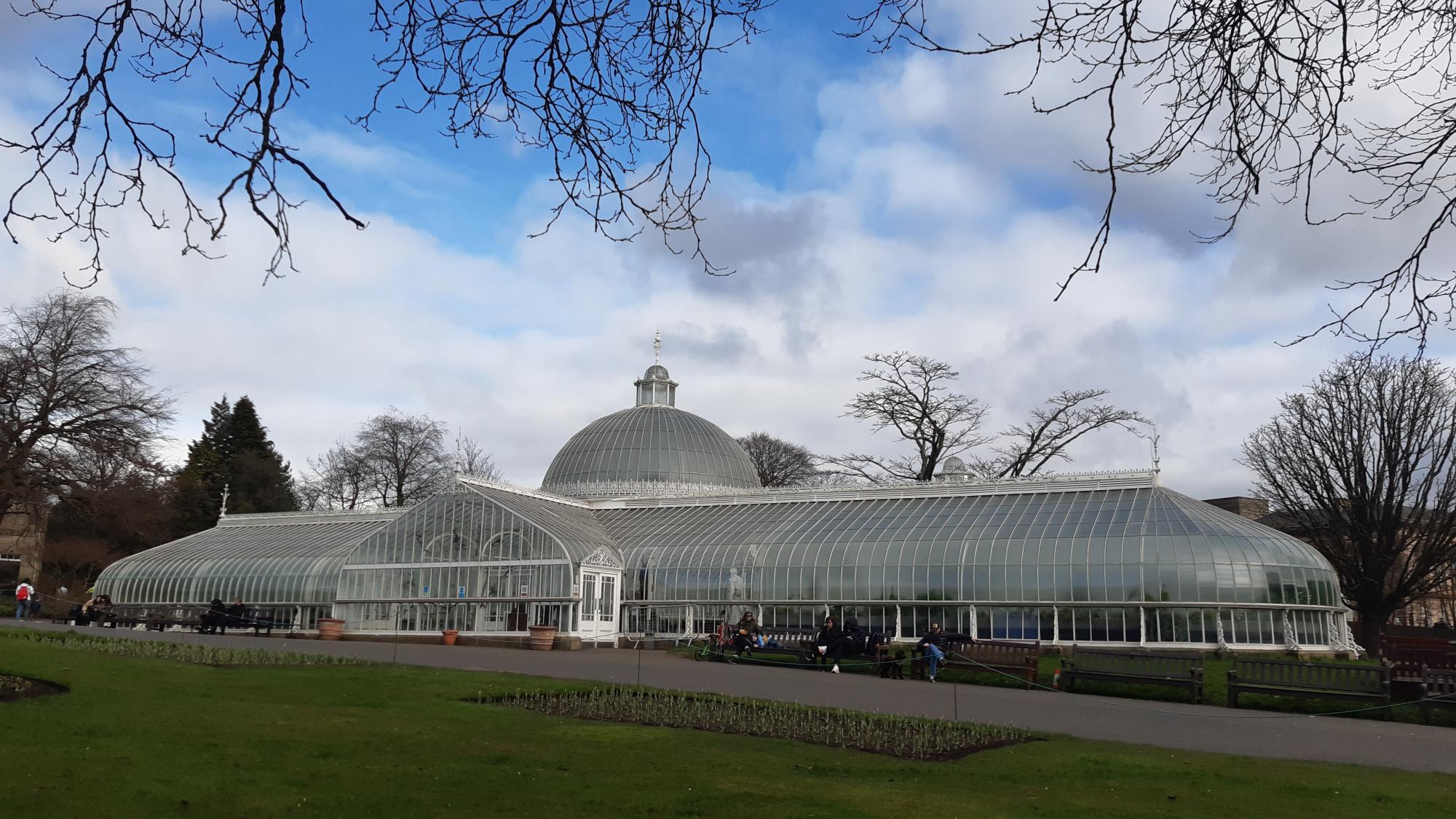 The Kibble Palace, Botanic Gardens, Glasgow
Qigong in Kibble Palace South Wing Room, Botanic Gardens, Glasgow
HOW DO I GET TO GLASGOW'S BOTANIC GARDENS?
Glasgow's Botanic Gardens are located in the West End of Glasgow at the junction of Great Western Road and Byres Road. This is a lovely area of Glasgow, with a lot of independent shops, delicatessens and restaurants. Kelvingrove Art Gallery and Museum are also only a short walk away. To view the location on a map, please click here.
If you are travelling from outside Glasgow, from Queen Street Railway station you can take the underground from Buchanan Street (just outside the Railway Station) to either Hillhead or Kelvinbridge, which are both just a short walk from the Botanic Gardens.