WELCOME
Welcome to Tai Chi and Qigong Holidays and Retreats, run by Hazel Moffatt of Tai Chi and Nutrition for Health and Wellness, who has been teaching Tai Chi and Qigong since 1999 and running Tai Chi and Qigong Relaxation Holidays and Retreats for several years in warm, sunny, lesser known and interesting locations.
The Tai Chi and Qigong Holidays and Retreats are a unique opportunity for you to totally relax, rejuvenate and explore, while learning Tai Chi/Qigong outdoors in the warm sun and meeting a small group of like-minded people.
During these Holidays there will be the opportunity of taking part in other activities with the rest of the group, such as dolphin watching trips, walking and dining out, although the Holiday is your own and everyone is free to do whatever they like.
Upcoming Holidays will take place once the present situation has passed.
If you'd like to try Tai Chi or Qigong prior to booking a Holiday Retreat, you may wish to join a live online Tai Chi or Qigong class with Hazel.
Please feel free to either call or email Hazel if you need any further information about the Holiday Retreats or please click here to book your space on any of the Holiday Retreats or online classes.
To read more about Tai Chi and Nutrition for Health and Wellness and about what Hazel does in Edinburgh, Scotland please feel free to visit www.taichiandnutrition.com
If you'd like to go on our mailing list and be one of the first to hear of all future Holiday Retreats please fill in the form below: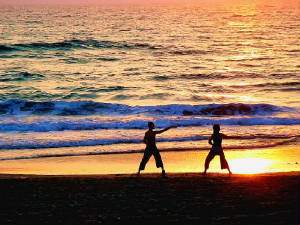 Tai Chi/Qigong on the beach